>
>
>
LYREIGN CNC Tool holder Cabinet,cat40 tool rack
LYREIGN CNC Tool holder Cabinet,cat40 tool rack
Brand :LYREIGN
Product origin :China
Delivery time :negotiate
Supply capacity :supply on demand
1. LYREIGN DJGX07C CNC Tool holder Cabinet adopts SPCC high-quality 2.0MM cold-rolled steel square tube, and multiple reinforcements are installed to strengthen the structure. The entire cabinet structure is a cuboid, which makes the bt40 tool holder cabinet very stable. Therefore, most of our cat40 tool racks adopt this structure to increase stability.

2. The cnc tool holder rack of DJGX07C cat40 tool rack can be adjusted up and down in size, even a large cnc tool holder can be stored normally and easily, and compared with other types of cnc tool holder storage cabinets, LYREIGN's DJGX07 cat40 tool rack adopts disassembly Mode, which is not available in other company's products. Due to the detachable nature of this cnc tool rack, it is very easy to move it and place the bt40 tool holder cabinet where it needs to be.

3. LYREIGN DJGX07C It can be combined by DIY. If the cnc tool holder increases over time and needs more cnc tool holder rack, you can buy our DJGX06F or DJGX07F to increase the length of the cnc tool holder Cabinet. It can be assembled infinitely, as long as there are enough cnc tool holder racks, it can even circle the earth for a week.
LYREIGN DJGX07C Multipurpose cnc tool holder storage rack
DJGX07Ccnc tool holder storage rack, this cnc tool holder rack is specially designed for factory storage cnc tool holder. You can buy different combinations or DIY lengths according to your region and needs. You can also adjust the height of the tool rack you want to use according to different cnc tool holders. For example BT series 30/40/50, CAT series 30/40/50, HSK series 40/50/63/100. The overall pickling and phosphating treatment not only ensures the firmness and durability of the structure, but also highlights its stability. The treated bt40 tool holder cabinet looks smoother, with good color rendering, rust resistance and wear resistance. Also thanks to this treatment you can easily clean the cnc tool holder storage rack.
LYREIGN DJGX07C cnc tool cabinet detailed description
Novel design: LYREIGN multifunctional iron cabinet adopts stylish design, stable structure and beautiful price to provide excellent cnc tool for various CNC machining enterprises, Such as T&H MANUFACTURING Company and various machinery companies at 860 Industrial Way, CA
LYREIGN bt40 tool holder cabinet is divided into 550mm and 750mm cnc tool holder rack. This CNC tool rack storage is a 750mm CNC tool rack storage rack with a much larger capacity than the 550mm tool rack. As the number of cnc tool holders increases over time, you can purchase our RGT-DJGX06F cnc tool holder rack for lossless merging and unlimited expansion, provided you have enough space of course.s
Sturdy and stable: LYREIGN DJGX07C cnc tool holder rack is equipped with multiple improved rubber-coated iron non-slip feet, so that your new bt40 tool holder cabinet can always be stable as before, ensuring that your cnc tool holder will not be affected by the quality of LYREIGN's cnc tool holder rack problem and damage.
Wide range of uses: cnc tool holder rack can be used in factories, workshops, warehouses, garages...the possibilities are endless! Moreover, the tool rack in the middle of the cnc tool holder rack can be replaced with a flat laminate, so that the usable range is wider and the tools that can be stored are more diverse. In conclusion with the LYREIGN series you can choose the model that suits your size and shelf space. LYRENGN will definitely match you with the most perfect storage solution.
Easy installation: For each product of LYREIGN, the product packaging and accessories will be checked before shipment to ensure that the products received by each customer are complete, and our products have installation videos on domestic or foreign social platforms . Directly search for LYREIGN+ product model on YouTube or Bilibili to find the corresponding installation video.
It can be combined by DIY. If the cnc tool holder increases over time and you need more cnc machine tool carts, you can buy our DJGX06F or DJGX07F to increase the length of the cnc machine tool carts. Can be assembled infinitely, as long as your place has enough space
Comes complete: Original LYREIGN collections come complete with packing list and installation instructions, and in minutes you'll be delighted to have a new partner and compliment him for being so beautiful and easy to use.
Sufficient inventory: Our company has 3 warehouses locally, and each warehouse is stored according to product classification. The total warehouse area can reach about 3000 square meters. Moreover, our warehouses have taken waterproof and moisture-proof measures in advance to ensure that each product is stored safely. In addition, our products have a fast turnover, so each product will not be stored in the warehouse for a long time.
After-sale guarantee: All products of our company have a 3-year shelf life. If you have any questions, please contact us in time, we will be in China time from 8 am to 12 pm. Reply for you in real time, if not within this time period. Please don't worry LYREIGN will definitely provide you with various solutions within 24 hours for your reference.
Brand
LYREIGN
ltem No.
RGT-DJGX07C
model
HSK40/HSK50/HSK63/HSK100/BT30/BT40/BT50
capacity
HSK40 288CAP
HSK50 288CAP
HSK63 240CAP
HSK100 168CAP
CAT/BT/SK30 336CAP
CAT/BT/SK40 240CAP
CAT/BT/SK50 168CAP
product size
69"*21.7"*70"
Material
Cold rolled steel plate
Item Weight
260pounds
color
orange grey
MOQ
1 set
Packaging
Carton
Assembly Required

yes
Country of Origin
China
Manufacturer
LYREIGN
Height adjustable cnc tool holder storage rack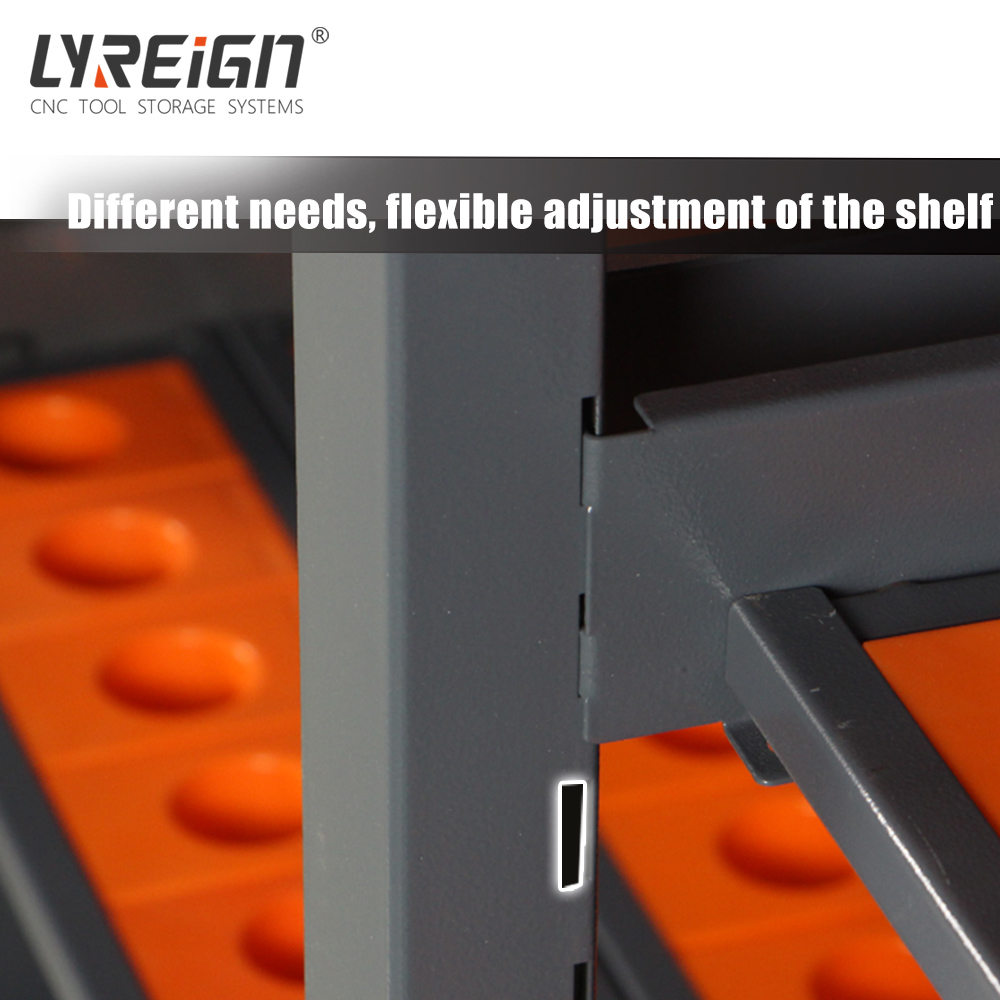 Pre-installed cnc tool holder storage rack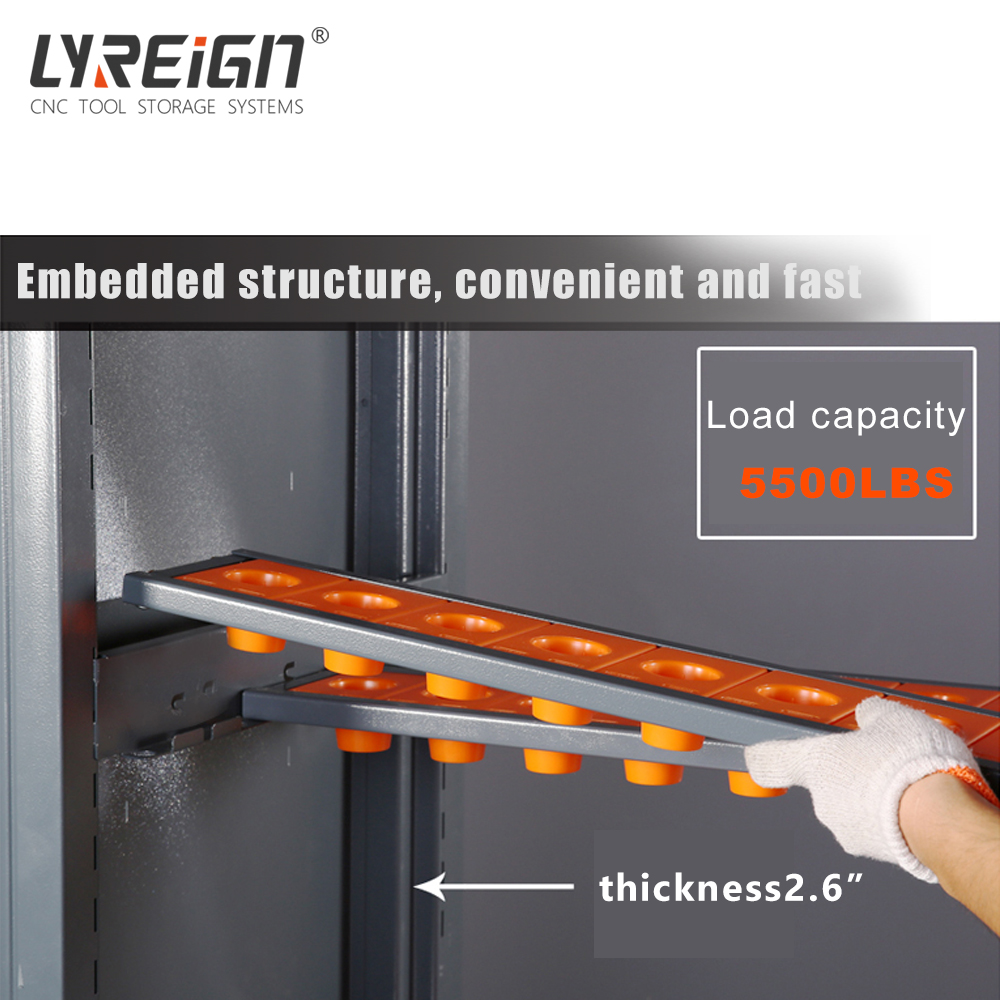 cnc tool holder storage rack that can be assembled indefinitely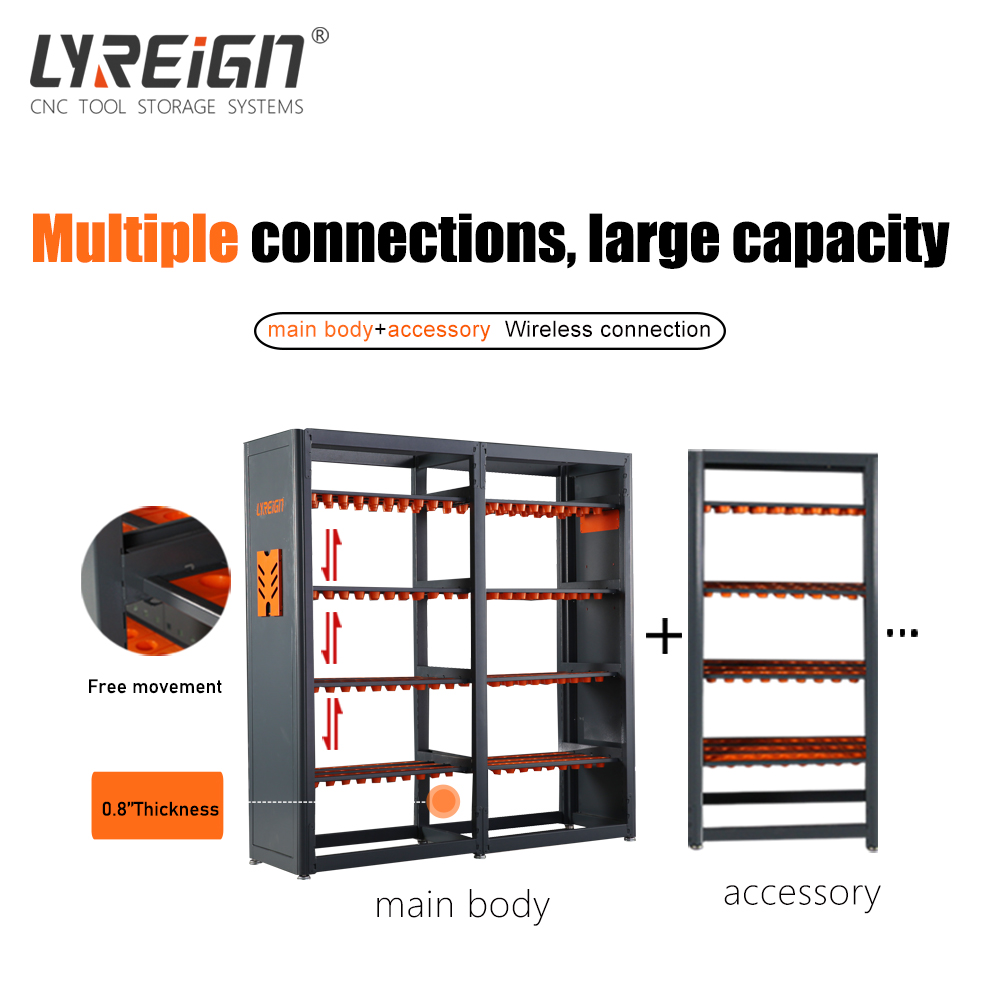 Please feel free to give your inquiry in the form below. We will reply you in 24 hours.