>
>
>
Cat Tool Cart Collet Storage Tool Cart
Cat Tool Cart Collet Storage Tool Cart
Brand :LYREIGN
Product origin :China
Delivery time :negotiate
Supply capacity :supply on demand
【High-quality material】LYREIGN-PIEP02C Flat CNC Tool Cart is made of high-quality thickened spcc cold-rolled steel material, integrated bending technology, pickling and phosphating treatment, which is more durable than Flat CNC Tool Cart made of other common materials. And there will be no burrs after laser cutting, so your body will not be accidentally scratched. The integrated bending technology can greatly increase the structural strength of the Flat CNC Tool Cart. The pickling and phosphating treatment makes the surface of the Flat CNC Tool Cart very beautiful and durable.

【Large Capacity】Longmen CNC Tool Cart comes with 2 large drawers, 1 compartment drawer and 1 normal drawer. The top drawer of the Longmen CNC Tool Cart is equipped with spacer iron sheets, which can be freely customized according to your own needs. The lower drawer is the entire plane, and other larger items such as documents can be placed. Different sized drawers hold different tools and supplies.

【Graphic Design】The design of this Longmen CNC Tool Cart is very creative. In the entire Longmen CNC Tool Cart, you can place the commonly used cnc tool holder on the top, place tools, place drawings, operate computers, etc. on the platform. The drawers can be used to place trivial parts such as parts. There is a flat plate and a cnc tool holder storage rack inside the lower cabinet, which can be used to place some infrequently used cnc tool holders. Don't worry, there are key protections from top to bottom. to protect your tools and keep your tools safe.
LYREIGN PIEP02C The perfect combination of tool carts and cnc Tools Keeper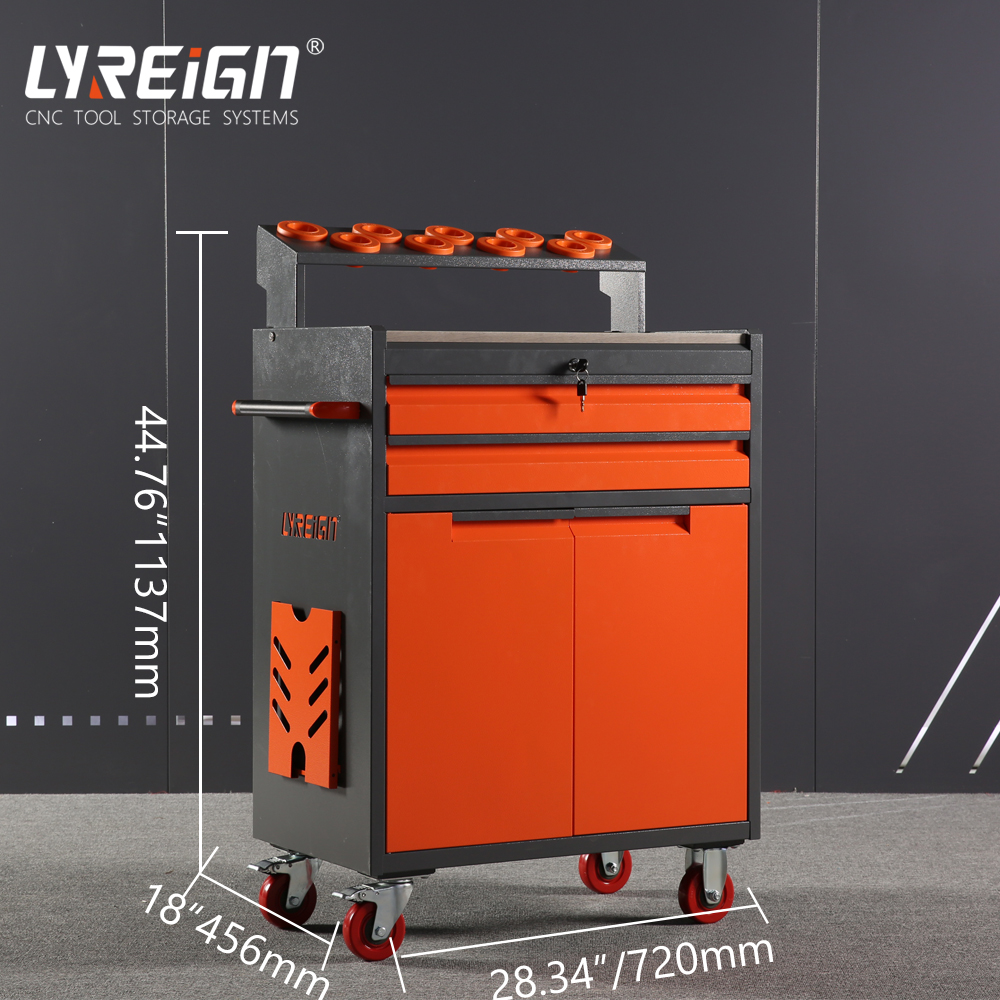 LYREIGN PIEP02C Drilling CNC Tool Cart is made of high-quality cold-rolled steel, pickling and phosphating, and the overall bending process. The tabletop is made of high-quality thick wood, which is thick and durable, and can hold various items. This Drilling CNC Tool Cart is a combined product of cnc tool cart and cnc tool holder keeper. This design will make this Drilling CNC Tool Cart more practical, more suitable for the needs of operators of machinery companies, and make operators more convenient Work, this Drilling CNC Tool Cart is well reflected in the global market, and there are countless foreign trade orders.
PIEP02C detailed description

PIEP02C cat40 tool cart is a CNC Heavy Duty Utility Trolley, which is essential in shops, garages and even factories and shops. The cat40 tool cart often appears near CNC machine tools. According to past experience, every CNC machine tool is near There must be a cat40 tool cart, but it could come in any form. However, according to market analysis, this PIEP02C cat40 tool cart is the best choice
The cnc tool holder roller cabinet is a heavy-duty CNC machine tool that weighs 130 pounds and is very stable. Whether the quality is good or not can be concluded by comparing the weight. This cnc tool holder roller cabinet has a lot of products in the market. The seller, but only our products are the heaviest in comparison, which shows how the product quality is.
The drawers of the Flat CNC Tool Cart are equipped with thickened damping steel ball slides, which can accommodate various parts and products of different sizes, and the steel ball damping slides are very durable, ensuring your service life and load-bearing capacity
The Flat CNC Tool Cart features a large push-pull handle and heavy-duty, noise-reducing, non-slip rubber casters that make this cart easy to move around your work area. Large push-pull handles allow the Flat CNC Tool Cart to move easily with you and secure it next to the CNC machine, making it easy for the operator to work.

The cnc Tool Locking Fixture can be installed on the side of the PIEP02C Flat CNC Tool Cart. Please rest assured that the screw holes have been reserved in advance. Just fix the purchased cnc Tool Locking Fixture to the side of the Flat CNC Tool Cart to quickly disassemble and install the cnc tool holder
Easy to move: LYREIGN PIEP02C Flat CNC Tool Cart adopts two directional wheels and two universal wheels. To help the movement of the CNC tool transfer cart, the four wheels are non-slip and wear-resistant rubber wheels, and have been improved twice by our company. The quality is great and the noise is very small.
Packaging method: LYREIGN products have been summed up through experience, and the original cartons are specially packaged with fumigation-free glue steel belt plywood. The protection for Flat CNC Tool Cart is greatly increased, and the transportation damage on the way and the logistics company can also be protected from damage. Let you receive a flawless product.
Sufficient inventory: Our company has 3 warehouses locally, and each warehouse is stored according to product classification. The total warehouse area can reach about 3000 square meters. Moreover, our warehouses have taken waterproof and moisture-proof measures in advance to ensure that each product is stored safely. In addition, our products have a fast turnover, so each product will not be stored in the warehouse for a long time.
Easy to install: the original cnc tool cart, cnc tool holder keeper and other products all come with a packing list, and our (LYREIGN) products have installation videos on YouTube and Bilibili, you can search by yourself if necessary ( LYREIGN+product model) to find the installation video you need, and whenever you purchase our products, I will send you the relevant installation video. You'll be happy to have a new partner in minutes
After-sale guarantee: All products of our company have a 3-year shelf life. If you have any questions, please contact us in time, we will be in China time from 8 am to 12 pm. Reply for you in real time, If not within this time period. Please don't worry LYREIGN will definitely provide you with various solutions within 24 hours for your reference.
Brand
LYREIGN
ltem No.
PIE-P02C
model
HSK63/BT30/BT40
capacity
HSK63 26CAP
CAT/BT/SK30 28CAP
CAT/BT/SK40 26CAP
product size
28.34"*18"*44.76"
Material
Cold rolled steel plate
Item Weight
130pounds
color
orange grey
Caster Type
Rubber Casters
MOQ
1 set
Packaging
Carton
Assembly Required

yes
Country of Origin
China
Manufacturer
LYREIGN

Common CNC tool holder can be placed on the desktop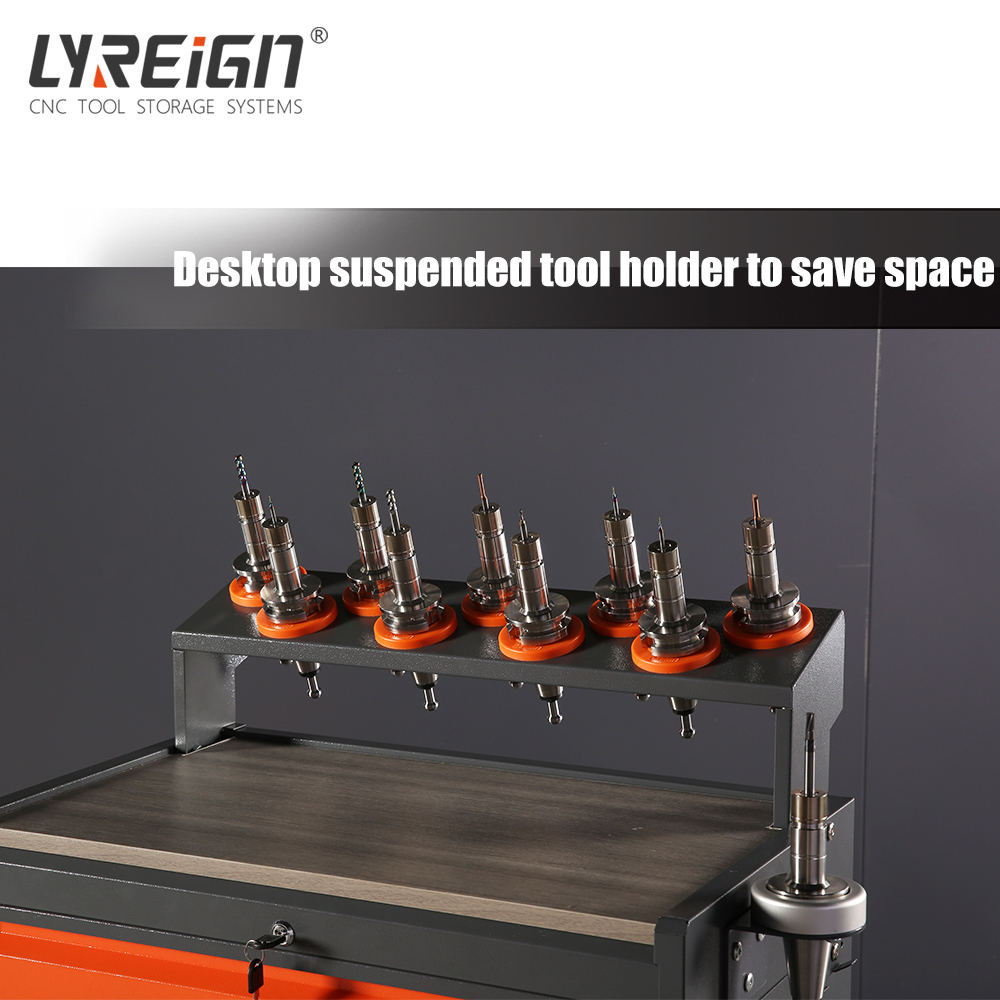 DIY size drawers



The cnc tool holder is not commonly used in the interior of the cabinet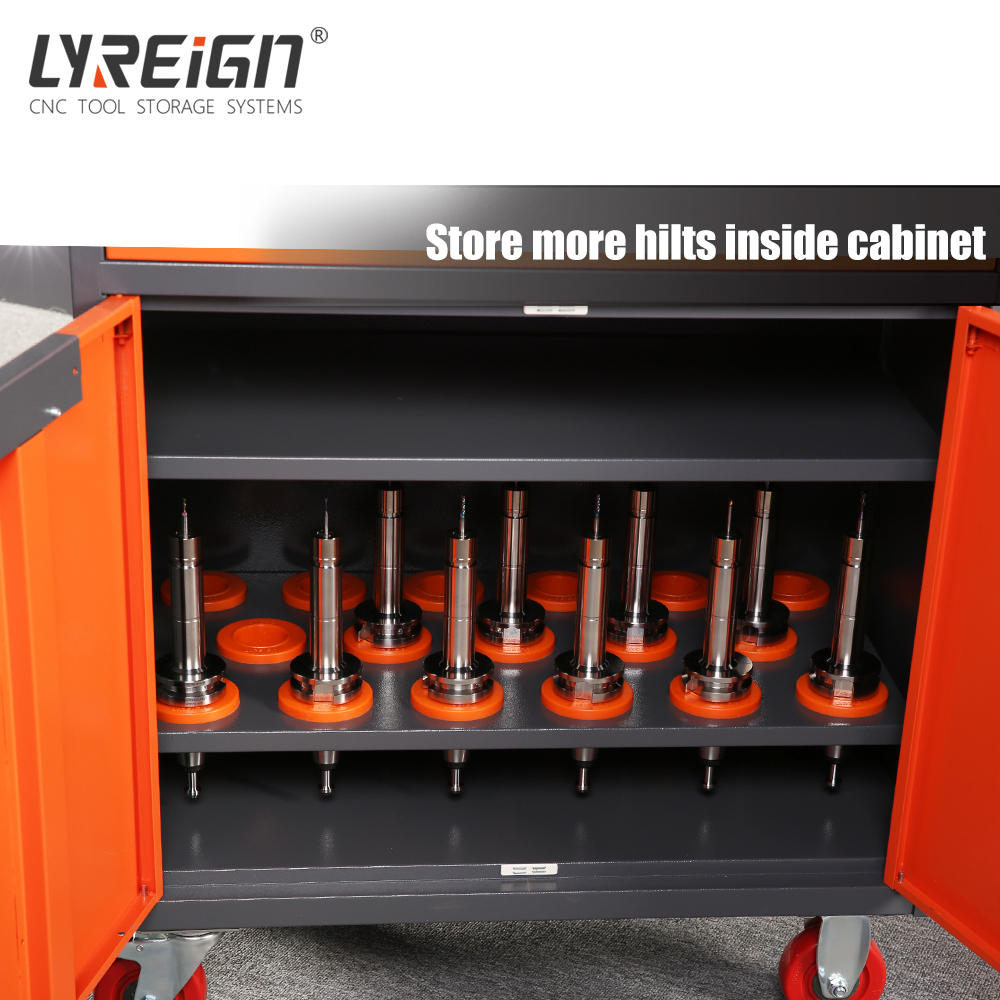 Reserved installation cnc tool fixture location, convenient operation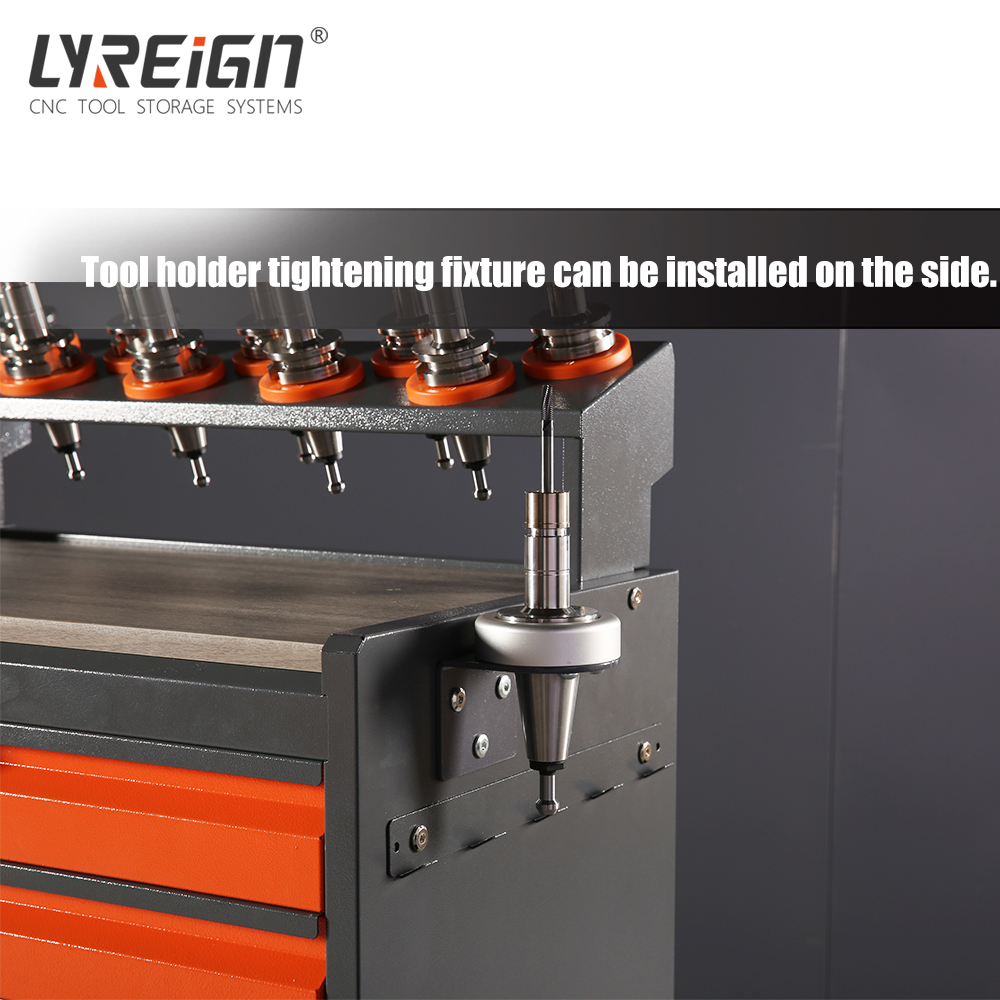 Please feel free to give your inquiry in the form below. We will reply you in 24 hours.